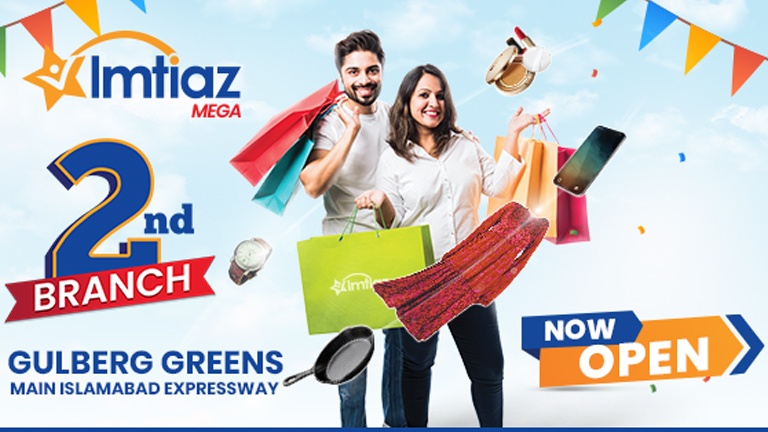 Highlights Of Imtiaz Mega Gulberg Islamabad's Exciting Opening Ceremony
Imtiaz's second branch in Islamabad recently opened its doors for the customers. The location is at a very convenient spot at Gulberg Greens, Expressway, where people can easily visit to shop. Its opening ceremony was held on the 20th of November, which included a huge crowd anticipating the launch.
Everyone at the branch opening was excited to see what this new branch had to offer. This was something anticipated long before the launch, as Imtiaz claimed it showcased a variety of products under one roof. Including its very own brands Sabiha's, Ponam, Brios, etc alongside offering other local and international products.
As usual, like any other branch opening of Imtiaz, it was packed with fun and excitement. It started with Qira't recitation followed by a ribbon-cutting ceremony; a moment of joy for everyone.
After this, finally, it was time to view Islamabad's second mega branch. As expected, it had a wide range of products to offer. The internal structure was so well planned that one could view the branch and shop easily. The ambiance was filled with colorful festive decorations that added more to the joyful occasion.
Concluding the branch opening highlights, as promised, the branch proved to be a paradise for shoppers. It was loved by the customers and received loads of appreciation. This was good news for this retailer since this proved the opening to be a success.
Imtiaz has not only moved its customers with continuous surprises but has also inspired several businesses nationwide. With such active progress, it has people guessing its next move. We can only hope for something new and exciting from its end in time to come. Until then, don't forget to visit Imtiaz Mega Gulberg Islamabad, it has lots in store for you!