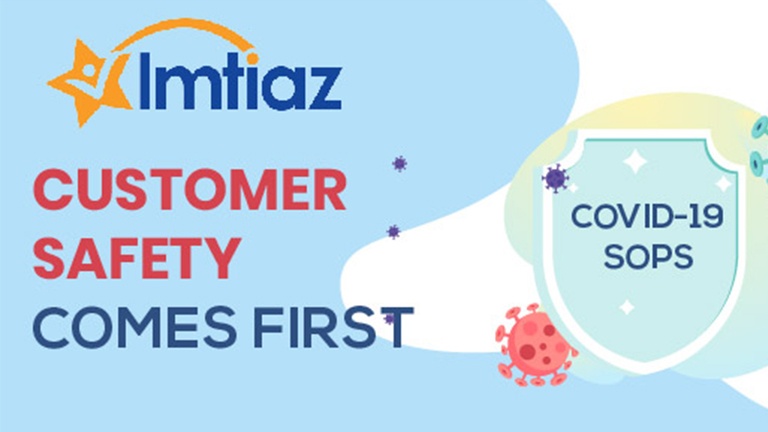 Imtiaz understands shopping as a bare necessity, hence, it has decided to continue its store operations amid COVID-19 across Pakistan. However, considering government lockdown guidelines, revised timings have been implemented in different stores city wise. Also, to enter Imtiaz premises customers and store staff must follow Coronavirus SOPS strictly.
Imtiaz follows all safety SOPs to keep you safe, because your safety comes first. There is a continuous practice of disinfecting signs of possible germs. Properly placed social distancing marks are placed on the floors. Trolleys are sanitized continuously to maintain hygiene. A disinfectant solution is also sprayed now and then to clear spaces around the store.
Several safety measures are being practiced at Imtiaz. A few of these include; wearing a face mask, the practice of social distancing, continuous hand sanitizing, and getting temperature checked; first thing before entering the store.
Apart from these, there are additional safety measures practiced. One of which is per person, per cart rule. With this everyone gets a chance to shop fairly, discouraging bulk buying. Also, children and senior citizens have been requested to avoid visiting the stores. This is for their safety since there is a high risk of COVID-19 to infect this age group.
As one of the pioneers in retail, Imtiaz feels the responsibility to contribute to society more than ever during these depressing times. Imtiaz's efforts to keep its valuable customers safe is visibly seen. Its social media channels are continuously promoting safety measures for Coronavirus. Customers planning to shop at Imtiaz are advised to feel safe as long as they follow Covid-19 SOPs. For more information on Coronavirus safety measures, visit Imtiaz's social media channels, until then stay safe!