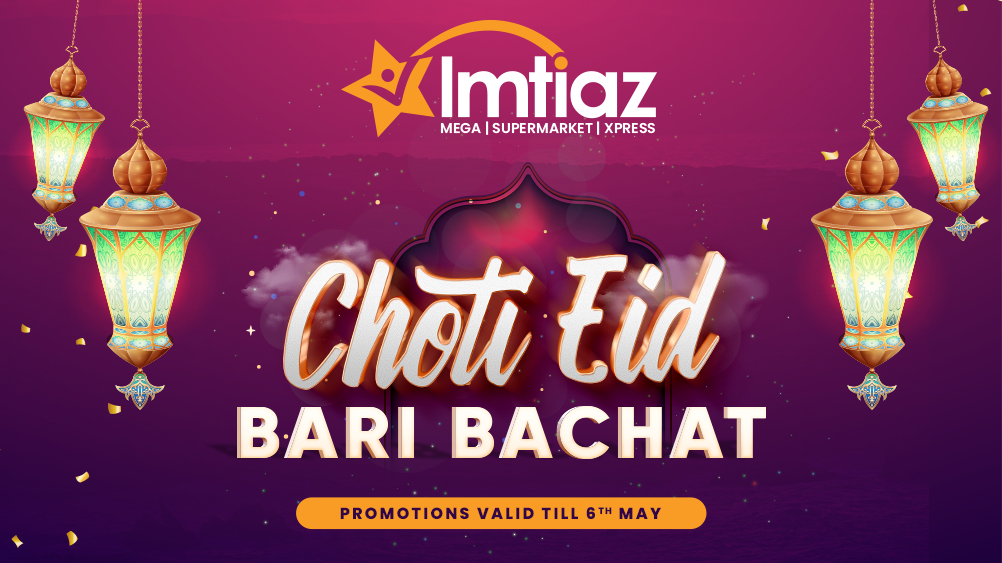 As the day kicks off with Eid prayers it takes a sweet start with a traditional dessert called sheerkhorma that is cooked in almost every other household marking it a day of celebration. A warm vibe of togetherness, affection, and happiness is enjoyed with your loved ones, relatives, friends, and family. The day is not only dedicated to commemorating the end of fasting but also to showing gratitude to the Almighty.
As much as this day is celebrated, the preparations for it begin quite before the moon is sighted. Imtiaz is the fastest growing chain in the retail industry and a brand associated with land that values tradition & culture has always managed to put up something special. We are all about special offers, discounts, and exciting Eidi that add more life to your festivities. Therefore, this festive season our CHOTI EID BARI BACHAT offers will surely be a treat for all adding life to the Eid celebrations. With special discounts on different items such as beverages, groceries, makeup, and more Imtiaz has made sure that this Eid marks a special place in your heart! Not just that, in fact, we've got something even more special for our loyal customers. Yes, it's time to give EIDI to all the loyalty cardholders and keychain holders, an amount of Rs. 10,000 at all our 23 stores. So, what could be better than that?
Sharing your happiness with others is the essence of Eid, hence Imtiaz makes sure to bring something exciting to the customers making Eid more colorful, joyful, and memorable. With the sweetness of sheer khorma, absolutely appetizing aroma of biryani, warm hugs, Eid prayers, new clothes, heartfelt greetings, and quality time with friends and family this day is surely the one that everyone waits for amidst the chaotic hustling every day of life. We wish all our customers a blissful, hearty, joyful Eid ul Fitr!