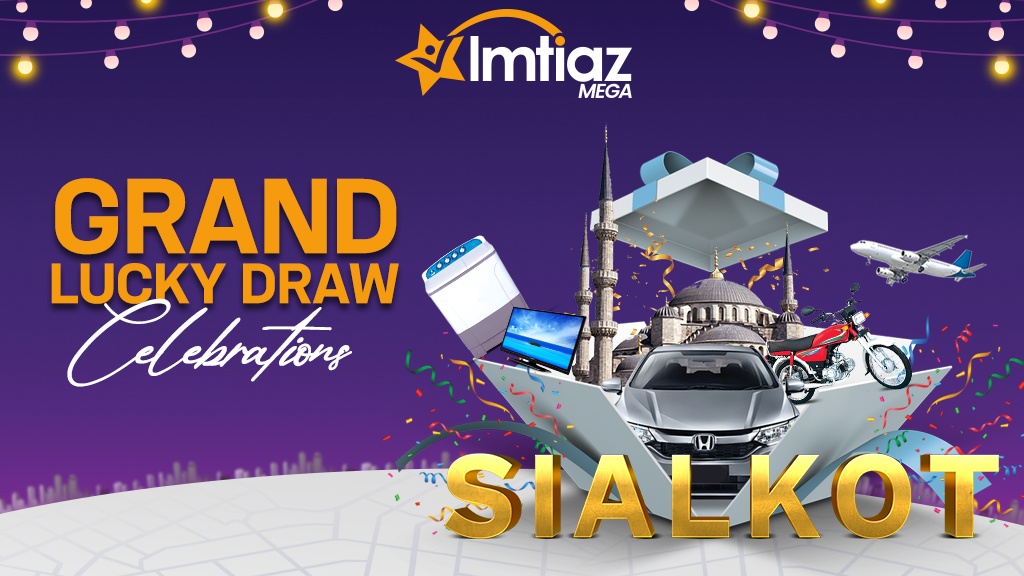 Imtiaz Mega Sialkot is the biggest retail outlet in the entire Pakistan and therefore, it has to be the one that offers the best in terms of range and prices for its customers! Not only this, Imtiaz with an intent to serve bigger and better, has always come up with exhilarating offers and opportunities such as the great grand Lucky Draw that was organized recently. 
The Sialkot Shop & Win Lucky Draw not only had grand prizes to leave the audience wonderstruck but it also added more to our name as we introduced a new way to conduct the Lucky Draw rather than sticking to the conventional one. We, this time initiated through a medium that was more convenient and hassle-free. We took a route where through an app the Draw was conducted, this way, less time was consumed, it was uncomplicated, and quick! Through a complete automatic system, we made sure that fair and just selections were done, so that we could serve our customers in the best possible way. To make it more interesting, random people from the live audience were called to start and stop the count through the application.
This great grand Lucky Draw was a way to thank our customers for being such a support to us, boosting our morale and helping us reach the heights where we stand today!
The massive crowd turnover added to the success of the Lucky Draw. The grand prizes such as Honda City 1300CC car, Turkey Trip, Bikes and much more were fascinating enough to get people try their luck! Mr. Azam who got a chance to witness his luck unfold a great grand car for him was indeed the happiest! Mr. Zohaib who won an exciting couple trip to Turkey would surely make cherishable memories on his trip! Making our customers happy and contented is what we look for in future as well. All in all, it was a successful event, driving our audience towards us and having much needed interaction where we could bond well with them!
We take great pride in serving our customers to the extent where they feel connected to us and take us as their go to shopping destination, fulfilling all their needs and more! 
Keep visiting Imtiaz Mega Sialkot as we are here to serve you well with everything and anything you'll ever need, that too, in best prices! Not only that, but we are all set to bring a lot more exciting promotions and opportunities to shop! So head over to the biggest Store of Pakistan and fill your carts with the best in town! Happy shopping!