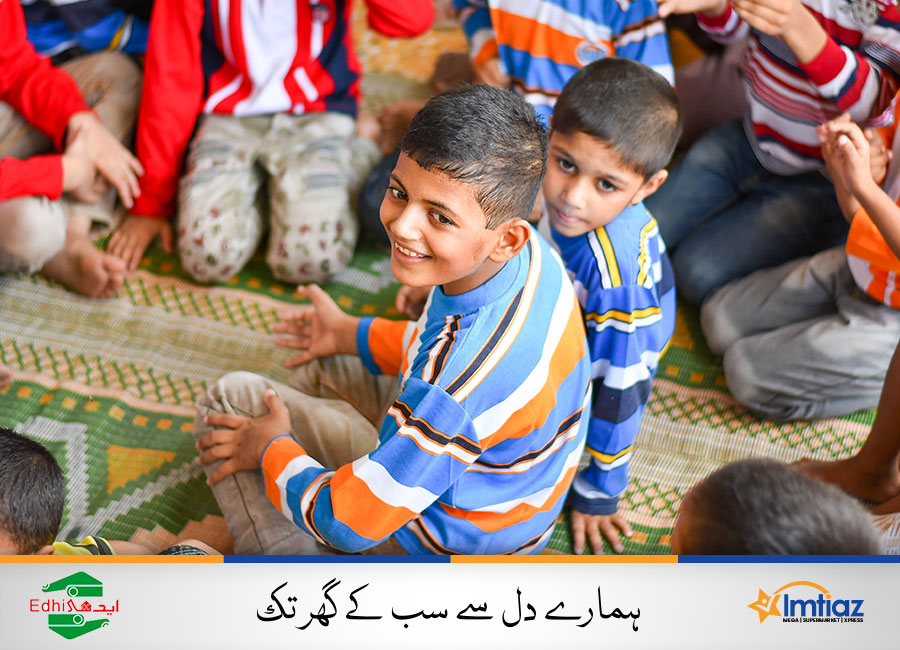 As a part of our Corporate Social Responsibility Drive; Imtiaz Stores took an initiative to celebrate a fun-filled day at Edhi Homes. Sticking to the principles of humanity and returning back to the society is what Imtiaz Stores strives for. We strongly believe in conducting business with ethics and are always willing to go an extra mile as we aim to spread smiles all around us!
"We rise by lifting others."
Being a well-known Non-Profit Organization; Edhi Foundation has set up more than 18 homes all over Pakistan offering shelter to orphans, abandoned children, and the homeless. Imtiaz Stores is more than pleased to join hands with Edhi Homes to bring joy to those who deserve it the most.
We visited Edhi Homes on September 16th, 2021 at Mithadar & Korangi but the preparations for this day had actually started way before. The whole team came together to sort and pack clothes for men, women and kids sourced from owned brands; Sabiha's, Buraaq & Khilkariyaan that were gifted to the residents of Edhi Homes. At the day of the event, we made sure to decorate the homes beautifully to add more colors to the space. It was a day filled with fun, giggles and heaps of incomparable happiness.
It involved a celebration with no discrimination and boundaries where our team engaged in creating cherishable moments through different activities; such as, face painting, quizzes that were followed by singing and coloring competition, right after treating all the residents to a tempting spread for lunch.
The joy and excitement on all the kids' faces doubled when our team began distributing treats to them that were hand packed by us with love. The mere one day that we got the privilege to spend with Edhi Homes was truly heart-warming. The event was surely an unforgettable experience not only for the residents but for us as well.
Imtiaz Stores is committed to pursuing similar CSR initiatives in the future as well and urges other organizations to come together for this cause because what's better than being a part of others happiness!
Imtiaz Stores – Spreading Smiles Since 1955.