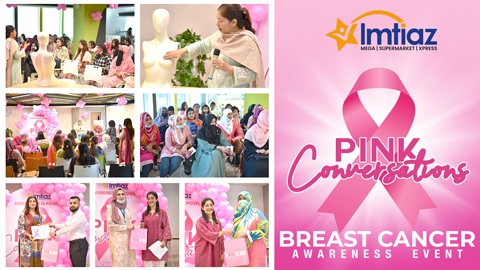 Pink Conversations—Awareness is Power!
At Imtiaz, we believe that creating awareness is quite imperative when it comes to breast cancer campaigns. Being thoughtful towards our consumers will keep us going in the right tangent, therefore this time we initiated an informative session that will surely be quite helpful in the long run both in terms of creating awareness and inculcating valuable facts! Women in our society plays a vital role in all aspects. Be it homemaking, corporates, major decision making, nurturing the generations or any other genus. While doing all this and more what they tend to forget is taking care of their health and wellbeing.
In order to create awareness, Imtiaz Stores collaborated with one of the most notable NGO Pink Pakistan. The entire event, called Pink Conversations took place at the head office of Imtiaz in Karachi where after much needed pre-planning, we executed a successful session. Extending our gratitude to Dr. Fareya Usmani who came all the way to educate women in this regard. From cute balloon décor to Pink Treats that were managed through Bakings by Imtiaz, from honoring them with certificate, bouquet and giveaways to a valued conversation that we were all ears for, everything was well executed!
Not just that we had a breast cancer survivor on board who opened up regarding her story and what she had to go through during this entire time was no less than an ordeal. Kudos to her for enlightening and giving strength to other women through her own experience! With that we came to an end of this informative session and had a Pink Quiz to award the audience for being so attentive and cooperative the entire time.
Sessions like these are what our society really needs since they create a sense of thoughtfulness and hit us hard on all grounds! Imtiaz, therefore is all set to align more sessions in the near future and to play a part in the welfare of our society.