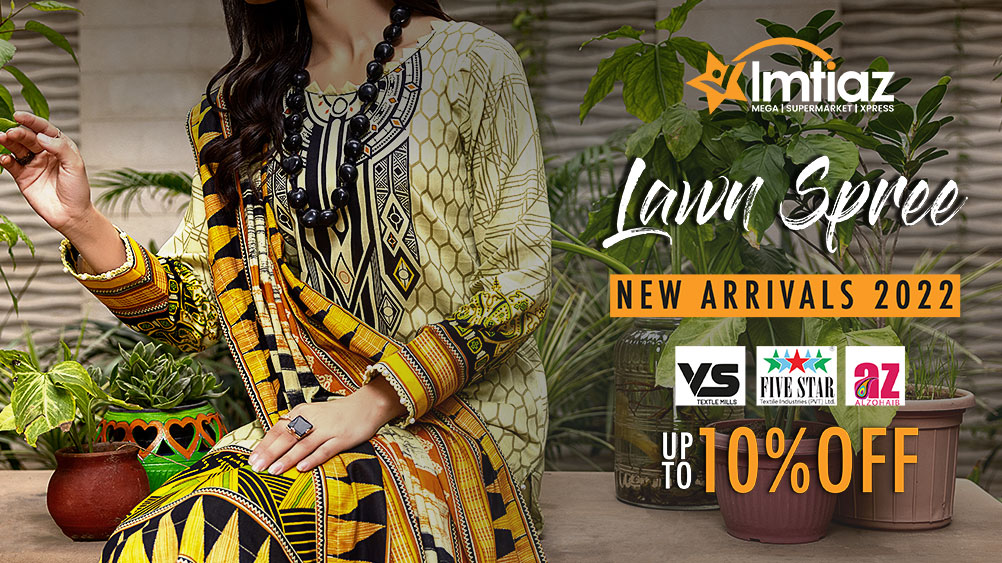 Simple prints and vibrant colors itself speak out loud about your personality. As much as the quality, cut, and design matter, what's more, important is how you carry the entire look. Be it easy to carry dresses or the jaw-dropping glammed up look, be it the 9-to-5 office diaries or the simple casual everyday look, one can simply turn the heads with the way they carry the attire. Turning simple dresses into sought-after party wear goes a long way in the sense that one dress could be carried in different styles and forms, however, styling yourself in the trendiest way is never a difficult task with Imtiaz! This season, Imtiaz has just pushed another big sale that surely made many wonderstruck.
Yes, with Imtiaz Lawn Spree it has now become easier to find fashion that makes you feel beautiful and confident every time you wear it, that too while being on the budget! Flattering prints and comfortable fabric is driving everyone's attention towards the sale, and with a playful palette, it's an extraordinary deal to get so much on discounted rates. With up to 10% OFF on all new arrival by Five Star, VS, and Al-Zohaib Textiles, this crazy sale did not only gain the much-anticipated footfall but is loved by women from all backgrounds and demographics. Displaying the latest collection from eminent brands, the sale seems to be a real deal with muted floral prints, and colorful palettes adding more to the summers & springs while elevating the style stigma. Imtiaz believes in expanding in all ways and providing the best to the customers, therefore, this season we granted you a wholesome opportunity to build a varied, steezy, and ultra-modern wardrobe that allows you to celebrate your personal style.
The Lawn Spree is all about a perfect combination of splendid colors, simple yet comfortable fabric, and exquisite prints, curated specifically for summers and making an ideal concoction for the season to look your best. Well, isn't that an oh-so-amazing deal to get your core wardrobe everything that it should have? The sale was an effort to bring forward the widest range for the season that is super affordable and contemporary. Imtiaz, in order to bring the best to its customers, strives in every possible way and hence this is one of the many reasons we marked our place in the hearts and minds of the masses. We believe that with your constant support, love, and pat on our backs we'd be able to serve you better, and will flourish far beyond the limits! With this approach we're moving forth and widening the horizon as always, hoping to set the benchmark higher.