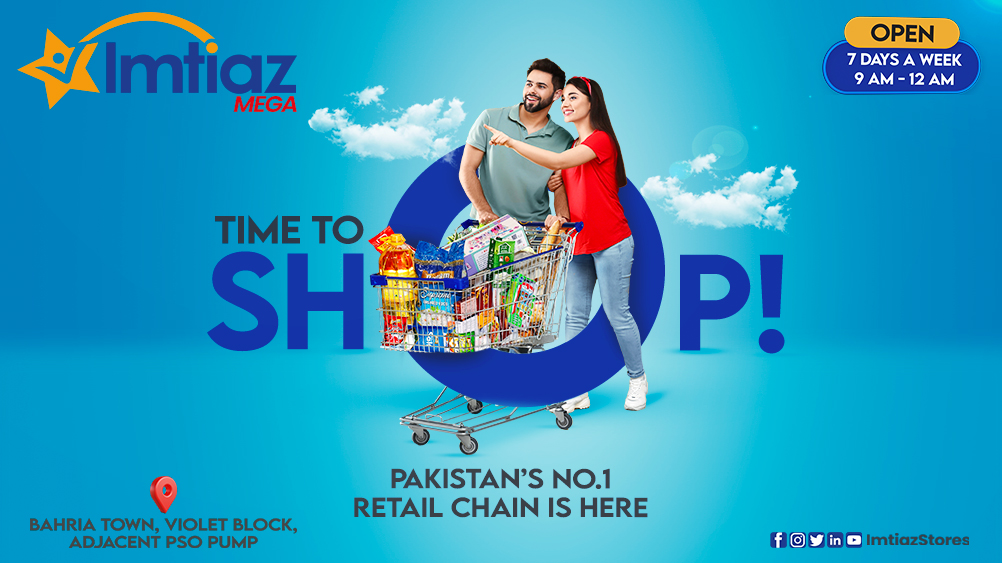 It has been a steep climb to expand over the years and get marked as Pakistan's biggest retail chain. Our exponential growth over the years has always been backed up by the continuous support and appreciation from the customers. Unlocking achievements would not have been the same, had there been no pat on our backs for the past 65 years. Imtiaz firmly believes that we certainly need to give back more and better to the audience because they simply contribute to what we are today! After the launch of 22 stores in 9 different cities, Imtiaz is headed to Lahore Bahria in order to cater to the customers there with its 3rd store.
The aim is to bring everything under one roof and a shopping experience that is exceptionally comfortable, convenient, and pleasant. That being said, Imtiaz with its Megastore is all set to provide a splendid shopping experience. With a spacious, classic, exhilarating layout that you'd surely approve of, a parking lot accommodating as many cars as you could think of, wide assortments, a quality that's no less than what you really expect and anticipate, that too at unrivaled prices, Imtiaz is surely a convenience-store that you'd love to visit anytime and every time! What merely was a chore for most families has now become an experience that people enjoy!
Filling up pantries, stocking up fresh fruits & vegetables, enjoying nutritious dairy products, appetizing fresh bakery items, quality meat, trendiest and comfortable womenswear, classy menswear, cute and adorable kidswear, authentic & original makeup by renowned brands all of these and more will now be within your grab. Imtiaz is facilitating the customers in every vicinity and is providing value with great consistency.
Imtiaz has always been passionate about the customer experiences associated with us, therefore, we took this launch on a different tangent and got the excitement level boosted for the customers. This time we invited top influencers of Lahore to visit & enjoy shopping with the customers. The store was decorated with blue & orange-themed balloons, giving a festive vibe and accentuating the ambiance! Inside the store, there were clean and magnified aisles for the customers to experience easy, hassle-free grocery shopping. From last-minute touch-ups to the décor, the entire store was a breath-taking experience for the customers.
Imtiaz has always been keen enough to pay attention to the details so that the customer experience is enhanced drastically. Taking every insight seriously, working day in and out to improve to a greater extent, taking into account all the ethical business dealing, and staying persistent throughout are just a few significant practices to jot down while stating about the rapid growth we have had over the years. The inauguration of our 23rd store is a step forward in attaining our vision statement and hence, we take great pride in sticking to our words and catering to the customers in all possible corners.
Imtiaz truly is an experience to explore and a pioneer retail chain standing tall through its consistent efforts and hard work. Serving every targeted segment with a wide variety, quality assortments, easy shopping experience, unparalleled prices and more is the aim that pushes us to go beyond limits every single time. Grocery shopping will no more be a hectic or boring chore with Imtiaz, in fact, this will certainly excite you every time you check off the grocery list in your reminder!