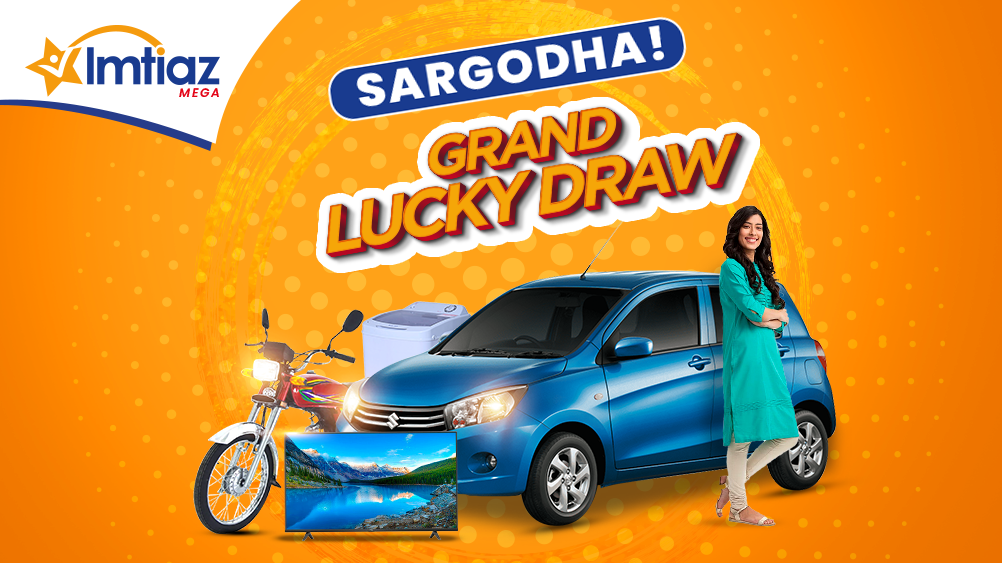 With every passing year, Imtiaz strives more and more to retain the place that has been built over the years through utter hard work and consistency. Expanding exponentially to cater in almost every other city is one of the goals that is aimed, hence Imtiaz opened another big store in Sargodha. The biggest retail chain in Pakistan entered Sargodha with a store that has an exceptional layout, and a wide covered area that allows a convenience-filled shopping experience for all the shoppers. Our store launch leads to lucky draws which is a way to thank our customers for their constant support and pat on our backs. Therefore, in order to show gratitude and let our customers feel acknowledged for all the love that they shower us with, a Grand Lucky Draw event took place in our Sargodha store.
As much as the crowd seemed enthusiastic, jubilant, and excited, the management of Imtiaz Stores was equally eager to surprise the lucky winners with grand prizes such as Suzuki Cultus, bikes & more. It was one epic night with happy faces, wide smiles, gripped with excitement of the announcements that were to be made. A night worth remembering, a night super cherishable for the organizers as well as those who won. Well, winning a brand new car on shopping of Rs. 10,000 only is no less than a dream come true! Who would not want to own a car? And when you're surprised unexpectedly with a grand prize of that sort, it surely is a deal to remember! This time it was Mr. Waseem Cheema who got to claim a brand new Suzuki Cultus car. Not just that, there were many other prizes that included, Bikes, LEDs, classy cookware sets, easy-to-use food processors, and more.
Sparkling smiles, an overloaded crowd, people chanting Imtiaz's name, and a jolly host that kept the event alive and people hooked for the entire time just added more to the chimes of the night!
Having a firm belief in serving our customers with great honesty over the years has got us that place, the brand image, and a soft corner in our customers' eyes. Therefore, Imtiaz leads with an intention to serve more and better to its customers. With many more strategies, projects, and goals Imtiaz Stores promises to keep providing you with the best in all aspects. Be it the quality, variety, assortments, or the lowest price range that we offer, we wouldn't compromise on anything throughout this journey!