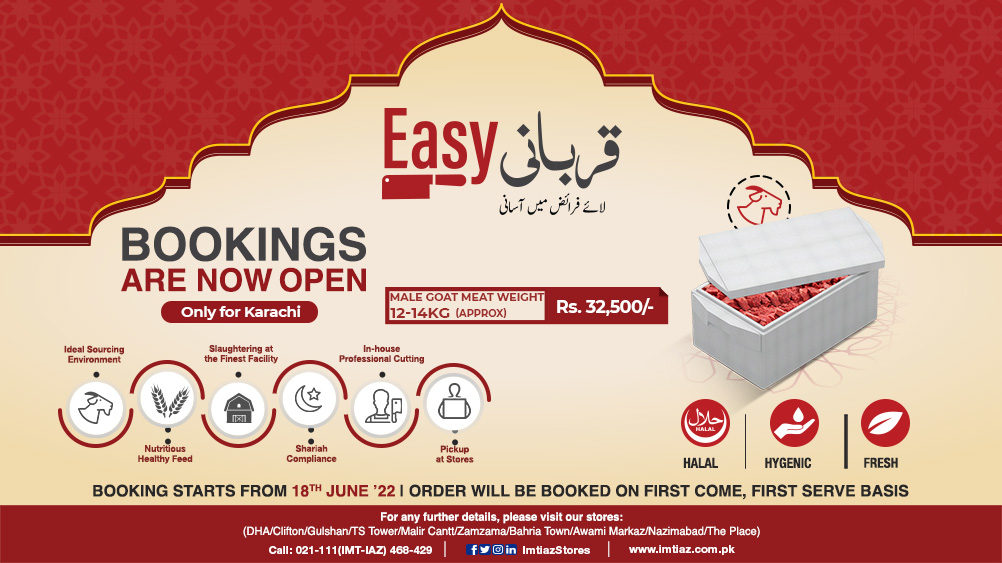 Commemorating the Sunnah of Prophet Ibrahim (A.S.) every year, Muslims around the globe celebrate Eid ul Azha with great enthusiasm and zeal. Eid-ul-Azha is known as the Eid of sacrifice, where Muslims everywhere don't only perform the sunnah of slaughtering animals but also perform acts of generosity, kindness, and selflessness towards others by sharing the meat with underprivileged and needy individuals as well as their relatives and friends.
To bring ease in the fulfillment of this Sunnah, Imtiaz provides the facility of carrying out the sacrifice of animals for its customers through the Easy Qurbani project. Easy Qurbani does not only make the entire process relaxing and hygienic, but also makes it chaos-free. With an intent to provide the best to its customers, Imtiaz has been executing this successful project for past few years and what really adds to our encouragement is the fact that each year our customers appreciate us and praise the project for the fulfillment of our commitment.
The goats that we slaughter are well-nourished from the ideal sourcing environment and nutritious healthy feed. Moreover, our Shariah-compliant slaughtering, that too at the finest facility and the professional meat cutting, help us ensure hygienic and well-packed meat that we hand over to the customers.
To avail Imtiaz Easy Qurbani, only a few simple steps are needed to be followed including filling out the forms and signing the contract, finalization of collection store and pick-up time slot, and lastly picking up the meat from the selected store. These steps will let you enjoy a hassle-free Qurbani with family and friends!
As the inflation rambles, Imtiaz takes great pride in being considerate and thoughtful towards the consumers, granting them an easy way to perform Shariah-compliant Qurbani at the most competitive rates this Eid. Hoping to serve the best to all our customers out there!