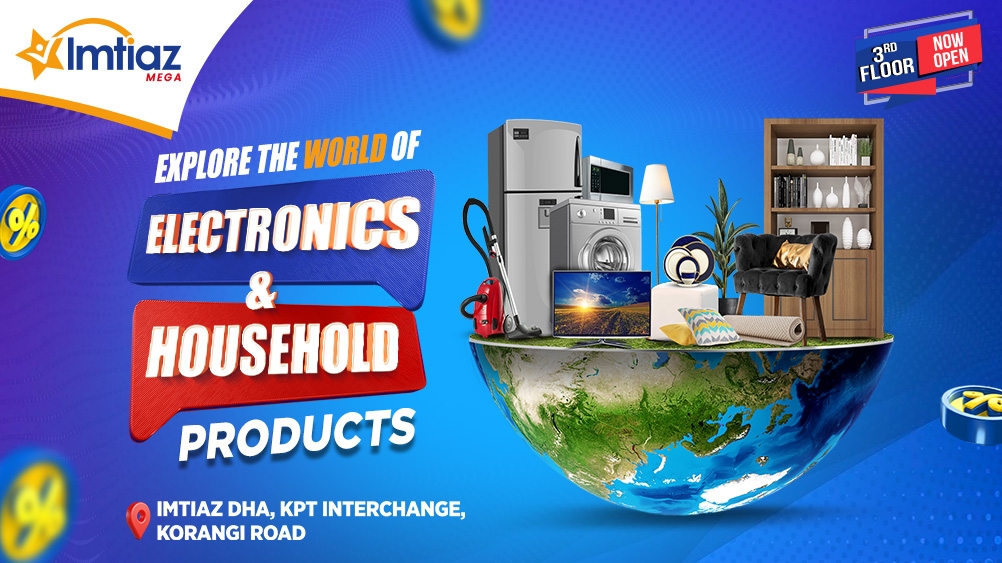 Imtiaz Mega DHA | A Newly Opened Floor Offering You The Widest Range of Electronics & Household Products
Imtiaz has always set the benchmark high enough when it comes to serving the valued customers. With everything under one roof, we make our customers' shopping experience convenient and easy. And it's also why Imtiaz is now known as an ultimate shopping destination and not just a grocery store.
To take this USP of providing literally everything under one roof even further, we recently launched another floor with the biggest range of electronics and household products in our DHA store located at KPT Interchange Karachi. The newly launched 3rd floor of Imtiaz Mega DHA will surely prove to be one of its kind.
An entire floor designated to Electronics & Household products, covering a huge space, provides an experience that's not easy to find and we are proud to bring this experience to the customers. Imtiaz Mega DHA store being one of our top performing stores pushed us to work even more on the betterment of the layout in order to make it more spacious and even more convenient to shop from.
Being a shopping destination that doesn't only offer grocery, electronics, pharmacy, fashion, apparel, household products and so much more but which also caters to the masses with its affordable price range, Imtiaz has become a one-stop solution for millions of people in Pakistan.
Imtiaz believes in offering a grand experience to the customers that exceeds their expectations. Moreover, our constant efforts to retain the place we hold in the hearts of the masses and the urge to keep doing better every passing day, add more and more to our offerings. We hope that we continue to bring the best for our customers, and make grocery runs even more fun & convenient for all!